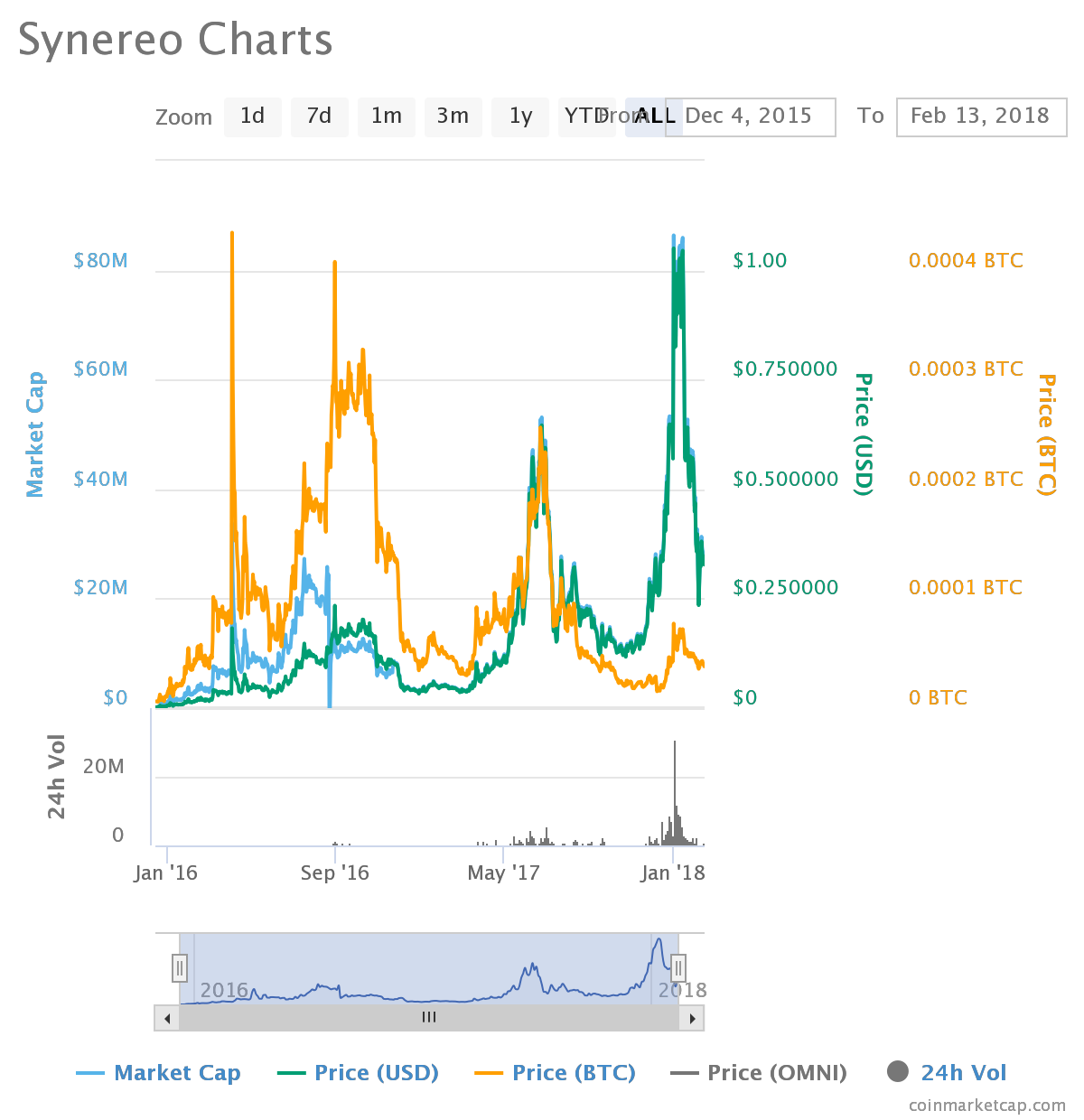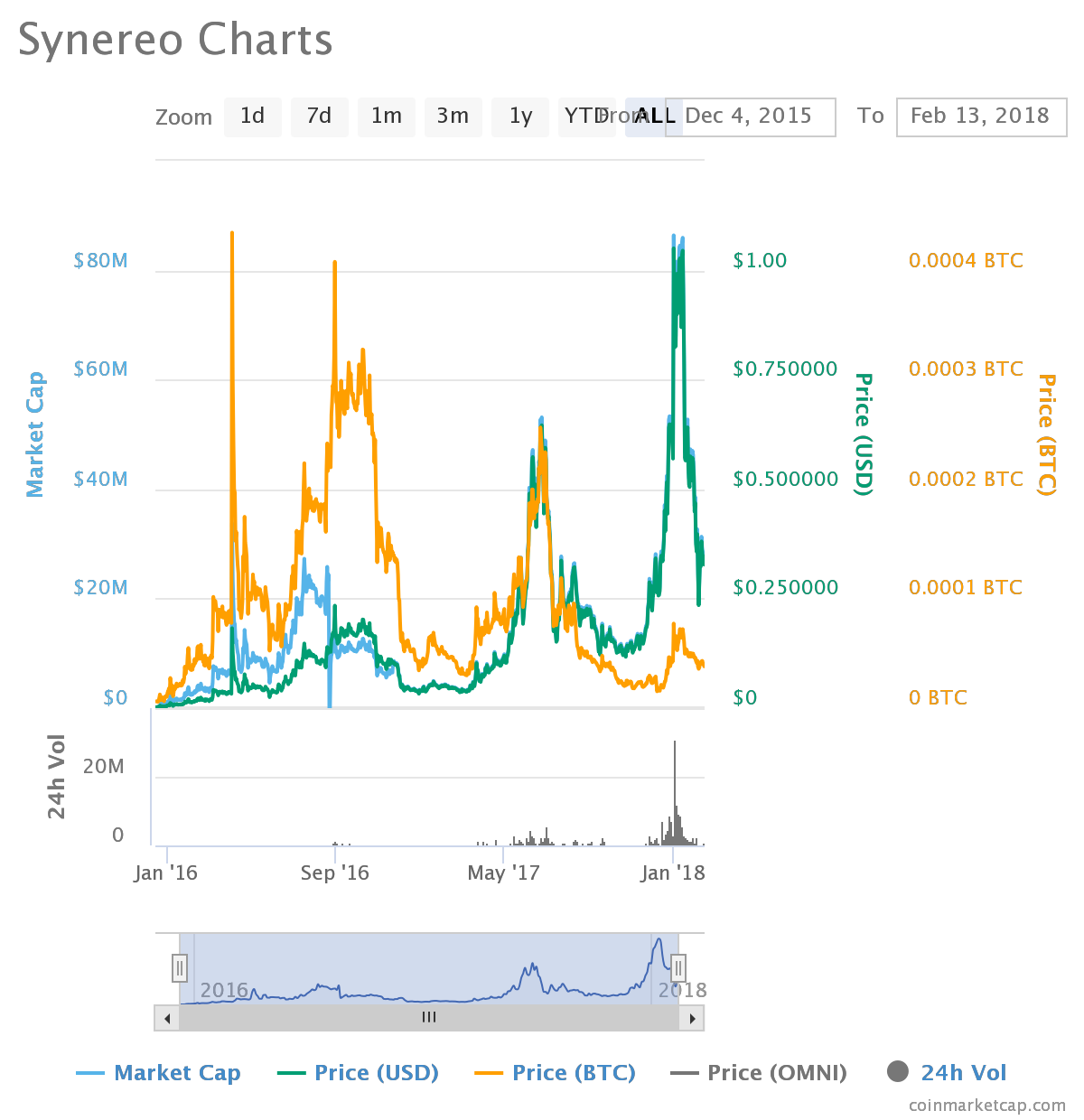 AMP is leaving holders and investors around the globe severely disappointed as no one seemed to expect to have such a cruel drop in price. Although 2018 was announced as a year of cryptocurrencies, AMP seems to have no luck at all. AMP, the official token of Synereo platform is slowly decaying in price against the dollar, but Synereo creators seem to have a backup plan that should help this token recover and get back on the track. Here is everything you need to know about AMP, Synereo and the announced novelties regarding this coin.
A little about Synereo
Synereo is a decentralized platform based on blockchain technology with a focus on monetizing content. Synereo made that possible by using AMP as its official token to reward and monetize any original content published anywhere online.
Needless to say that this case encouraged many content creators to start investing in AMP, also joining Synereo platform, the home of AMP. Based on blockchain and Economy Attention, the greatest success Synereo made is probably WildSpark.
WildSpark is the first tool ever to be created by Synereo. WildSpark works in the form of a meta-layer protocol located on blockchains and existing on top of content hubs and social media platforms. Its purpose is to monetize the original content in the form of rewarding, both, content creators and content curators. Rewards are given out in the form of AMP tokens, encouraging content creators to create more valuable and original content, while also encouraging people to share the created content.
Synereo, hubs and social media platforms aren't in any way presented as third parties in this program as all creators and curators are being rewarded without any of the mentioned parties taking a cut. So, basically, with this app, you can publish anything and anywhere on the internet and get paid for it in the form of receiving AMP tokens.
What is going on and why is AMP price decreasing?
What most people who are interested in Synereo platform and investing in AMP are wondering is what happened with AMP and why its price is decreasing so rapidly and radically.
How is it possible that AMP is falling so low with its price when just less than a month ago this currency announced a partnership with Changlly?
This partnership enabled WildSpark community to get paid by "attention holders" with any currency they have, that way leading this strategy of monetizing content to a whole new level. But, it seems that this partnership wasn't enough to keep AMP from dropping in price. Beginning from the mid-January, AMPO started to drop radically, which led to the current trading price of 0.48$ this coin is being traded now.
The reason for renouncing this coin and getting rid of it by selling it, which also resulted in dropping AMP's price, is the confirmed case of having slow transactions within the blockchain of Synereo.
That is why this startup coin decided to join a larger more stable network that would enable fats transactions – Ethereum.
AMP and Ethereum
The AMP and Synereo creators announced the merging of AMP with Ethereum. The initial joining should occur around June 2018, but the exact date is yet to be confirmed. WildSpark and the strategy of monetizing content are also being transferred to Ethereum, where AMP will appear as one of the supported tokens within the Ethereum network.
That way, by joining Ethereum and its ecosystem, AMP users, holders and investors should no longer have problems with slow and pricey transactions. The reason for having Synereo bugging in performance is the fact that WildSpark is getting more and more in popularity, consequently growing in members as well.
To avoid "system overload," Synereo, along with AMP and its holders, users, and investors will transfer its protocols to Ethereum. Within the Ethereum ecosystem, AMP would be used for transactions and exchanges while the users would be allowed to take advantage of smart contracts and all features that come with Ethereum.
After the announced merging, AMP should be able to get back on the track with better performance, which should result in having its price increasing instead of rapidly decreasing as it is the case right now.
Disclaimer: This article should not be taken as, and is not intended to provide, investment advice. Global Coin Report and/or its affiliates, employees, writers, and subcontractors are cryptocurrency investors and from time to time may or may not have holdings in some of the coins or tokens they cover. Please conduct your own thorough research before investing in any cryptocurrency.
Image courtesy of coinmarketcap.com